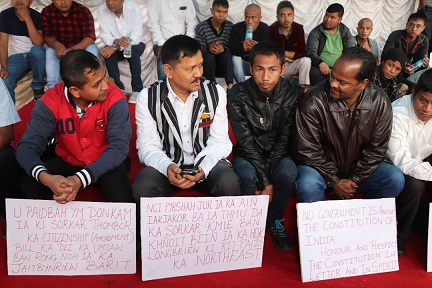 There is no reason for the people of Assam to panic as it was Chief Minister Sarbananda Sonowal who had insisted that a Joint Parliamentary Committee (JPC) visit the state and listen to the views of the people, senior minister and government spokesman Chandramohan Patowary said.
"The government is doing everything to take the people of the state into confidence", Assam industry minister Chandra Mohan Patwary said with reference to the bill, which proposes that illegal migrants of certain minority communities from Afghanistan, Bangladesh or Pakistan can become eligible for Indian citizenship.
It also welcomed the Meghalaya Cabinet's decision of opposing the Citizenship (Amendment) Bill 2016 and urged all other State Governments to follow suit and oppose the Bill so as to safeguard the identity of its people. "We will organise the signature campaign across Assam till May 30", Asom Gana Parishad President Atul Bora said.
Kalita described the bill as a move to divide people of Assam.
The NRC is expected to identify the genuine Indian citizens living in the state and the illegal foreigners living in the State. "I appeal all to maintain peace so that unwanted situations do not develop in the state", he said.
The stand of the Congr-ess against the bill has created a further embarrassment for the party as Mr Gogoi as chief minister until 2016 advocated asylum to Hindus and other minorities facing religious persecution in Bangladesh.
The Illegal Migrants (Determination by Tribunal ) (IMDT) Act was enacted in 1983 to detect and deport illegal foreigners from Assam.
Before passing the Bill, Centre constituted a Joint Parliamentary Committee (JPC) comprising of 16 members who are now on a tour of the North East to solicit views on the controversial Citizenship (Amendment) Bill.
Speaking to media persons after meeting the Committee North East Students' Organisation (NESO) Chairman Samuel Jyrwa asserted that the organization strongly opposed the Bill which, if passed, would drastically affect the indigenous population of the North East region. To weed out migrants, the Assam Accord was signed in 1985, which says anyone who entered the state after 1971 would be considered an illegal resident.
In the Bengali-dominated Barak Valley, a majority of the 315 opinions submitted to the JPC were in favour of the Bill, and people carrying placards formed a human chain in its support. While nearly all organisations and non-BJP political parties in Assamese-speaking Brahmaputra Valley opposed the bill, the Bengali-speaking Barak Valley supported it.
A 16-member JPC headed by BJP MP Rajendra Agarwal had visited the state for three days since May 7 to inculcate opinions of organisations and individuals on the Bill.